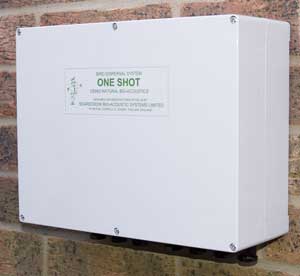 ONE-SHOT, a well researched and trialled bio-acoustic bird dispersal system using natural species distress calls to create an environment appearing 'hostile' to birds.
ONE-SHOT is intended for use anywhere that birds present a hazard to health and safety, or just plain nuisance; shopping precincts, malls, urban areas, parks, outdoor cafés, restaurants, food processing plants, warehouses.
ONE-SHOT is very effective in dispersing birds, is humane, inoffensive and does not endanger their lives. Importantly, natural bird distress calls played back at a natural sound level are not intrusive and often remain unnoticed in places where the public is present.
Proven technology, unique to SCARECROW, means that birds will not habituate to ONE-SHOT, programmed to play the distress calls of up to six urban bird species, sequence 'shuffled'. Each call is of 45 seconds duration; a specific group of calls may be preselected from FERAL PIGEON, STARLING, HERRING & BLACK HEADED GULLS, ROOK AND JACKDAW.
ONE-SHOT is fully automatic and random play in use and will work 24 Hrs a day without human intervention. ONE-SHOT may be powered from 110V/235V ac mains supplies, or batteries fully maintained by Solar Panels or other recharging systems.
In addition to normal random timed playback ONE-SHOT can be set up to play when any movement is detected using the optional Infra Red sensor (P.I.R.).
A daylight sensor is also included and can be programmed to cancel the playback sequence from DUSK to DAWN.
ONE-SHOT incorporates facilities to beat even more bird dispersal challenges:
- Provision for species seasonal migration and roosting events; automatic and random playback dispersal sequences have been increased by the addition of easily selectable RE-INFORCE and SEVERE programmes for these periods.
- Provision to change the length of a species dispersal call broadcast; some birds take longer to respond than others, often changing with environments.
- Improved enclosure mounting security by use of concealed surface fixing.
All controls, which are pre-set on installation, are housed within the IP65 rated ONE-SHOT enclosure to which up to 4 loudspeakers can be connected, selected to suit their operational environment – for indoor use, fully weatherproof or explosion proof.
Because ONE-SHOT uses solid state digital technology there are no moving parts to maintain or replace, ensuring extreme reliability and long term high quality sound.
Since the selected loudspeakers can be cable connected to a distance of up to 20 metres from ONE-SHOT, we recommend that this is installed in an area inaccessible to the general public, using the secure mounting system supplied.